Your New Favorite Perfume House: Maison Francis Kurkdjian
Simply The Best -The brand Founder, Francis Kurkdjian is one of the most celebrated French perfumers of our time. He is a Master Perfumer (there are only a handful of them in the world) and created Le Male for Jean Paul Gaultier at the very young age of 25 which is one of the bestselling fragrances in the world. He has created hundreds of perfumes and it is said that on any given day, 80 million people are wearing a Francis Kurkdjian creation!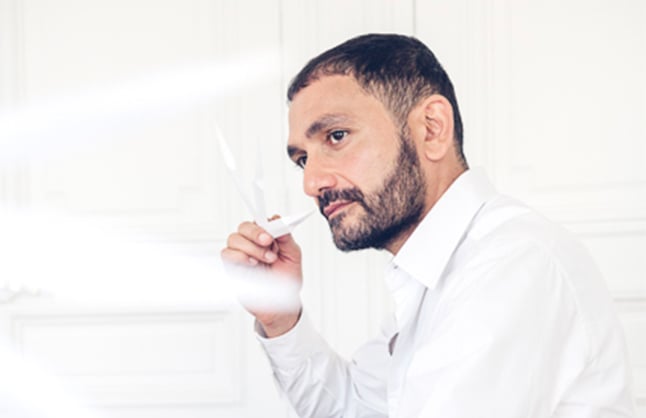 From Paris, With Love - Zinc, gold and grey caps adorn the bottles of the collection and are meant to represent the skyline and rooftops of Paris. An ode to the Maison's hometown roots and where the entire creation process from inception to manufacturing is done today. Kurkdjian also owns his own fields in the French Countryside as well as citrus orchards in Italy where he selects only the finest ingredients for his fragrances.
A Wardrobe of Scents – Rather than having one signature scent for life, the Maison suggests an alternative: the fragrance wardrobe. Change your scent with your style, the time of day, emotions, events etc.! For date night: Baccarat Rouge 540, for the office: Aqua Universalis – complete your look with a creation from Maison Francis Kurkdjian! 
The Favorite – Baccarat Rouge 540 was created as a celebration of the crystal manufacturer's 250th birthday. When crystal is heated to 540 degrees, the color of it changes from clear to a beautiful rouge-y red, thus the name of the fragrance. The genderless signature scent of Vogue editors, influencers, celebrities and It Girl's offers an intoxicating aroma of floral meets woody with notes of Saffron, Jasmine, Cedar and Amber and is extremely sophisticated. It is also available as an Extrait de Parfum. 
Two of a Kind – Gentle Fluidity goes to show the complexity and skill of Francis Kurkdjian abilities as a perfumer. Two fragrances composed of the same notes, with completely different scents. Gentle Fluidity Gold and Gentle Fluidity Silver boast the exact same ingredients but do not smell the same at all. Gold, a soft and sensual scent and Silver, a crisp and striking scent both made of juniper berry oil, nutmeg oil, coriander, musk, amber woods and vanilla. Gentle Fluidity goes to show the complexity and skill of Francis Kurkdjian abilities as a perfumer. 
Discover the entire collection in store now at Mirror Mirror Burlington and online. 
Continue reading